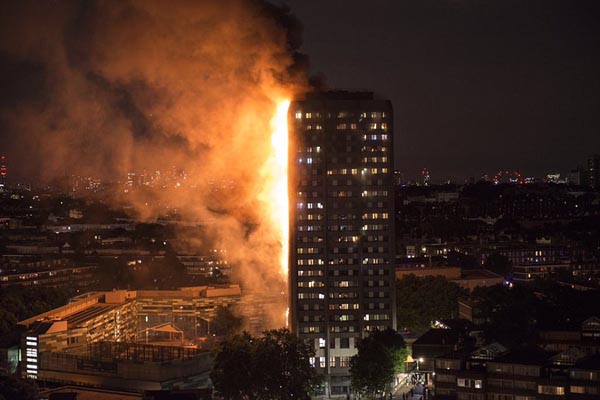 London tower block fire: Flames engulf Grenfell Tower
A huge fire has raged through the night at a tower block in Latimer Road, west London, with eyewitnesses claiming people are trapped in their homes.
The fire at Grenfell Tower on the Lancaster West Estate was reported at 00:54 BST and about 200 firefighters are still tackling the blaze.
The Met Police said people were being treated for "a range of injuries".
The BBC's Andy Moore said the whole tower block had been alight and there were fears the building might collapse.
Latest updates as fire rips through tower block
BBC correspondent Simon Lederman said he understood "a significant number of people" were unaccounted for.
http://www.bbc.com/news/uk-england-london-40269625

Kebakaran Grenfell Tower: Polis berusaha selamat mangsa

LONDON: Pihak polis berusaha menyelamatkan mangsa yang terperangkap dalam kebakaran di apartmen Grenfell Tower setinggi 27 tingkat di Lancaster West Estate di barat London.

"Usaha memindahkan penghuni apartmen yang tinggal di dalam blok yang terbabit dalam kebakaran terus dijalankan.

"Pada masa sama, ada di antara mereka turut dirawat kerana mengalami pelbagai kecederaan," kata polis.

Sementara itu, pihak bomba berkata, punca kebakaran masih belum diketahui.

Katanya, sebanyak 40 jentera dan 200 anggota bomba sudah dikerah untuk memadamkan kebakaran bermula dari tingkat dua bangunan apartmen terbabit. - REUTERS


[url="http://www.bharian.com.my/node/292809"]Kebakaran Grenfell Tower: Polis berusaha selamat mangsa | Dunia | Berita Harian
[/URL]