Joined

Apr 10, 2015
Messages

16
Points

1
WHAT IS DDS+ DISKLESS SYSTEM?
DDS+ is a server-client network based centralized diskless boot system.
No hard disk is required to be installed on client PC
.
DDS supports all kinds of client PC specifications, able to work with different motherboard, display adapters, sound card, network adapters and etc.
Our system
supports both Linux and Windows OS
and comes with recovery feature, fresh desktop upon reboot.
Thus, it keeps your environment
FREE of Viruses and Trojans
.
DDS+ can support up to Windows 10 and as Microsoft has announced after January 14, 2020, Microsoft will no longer provide security updates or support for PCs running Windows 7.
Now is the time to upgrade to Windows 10. For Diskless environment to boot up Windows 10, you will need to have 10GE (10 Gigabit Ethernet) infrastructure to boot up the PCs.
New PC hardware requirements will be Windows 10 compliance and may not allow you to use Windows 7 anymore.
DDS+ is an ideal solution for today's cybercafe/internet cafe, call center, library, corporate, education industries, computer labs and more!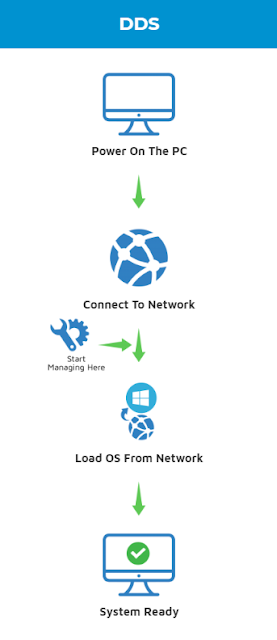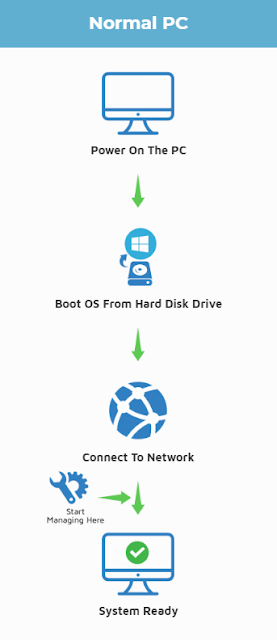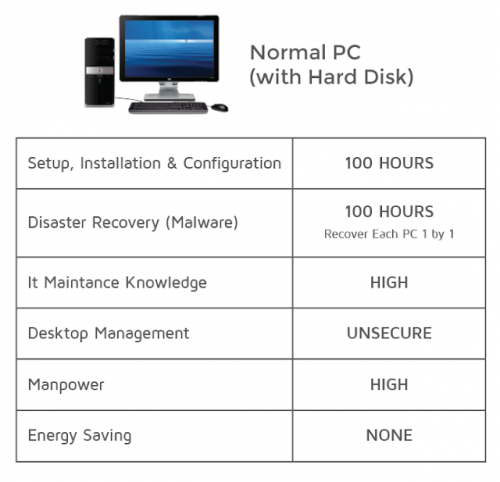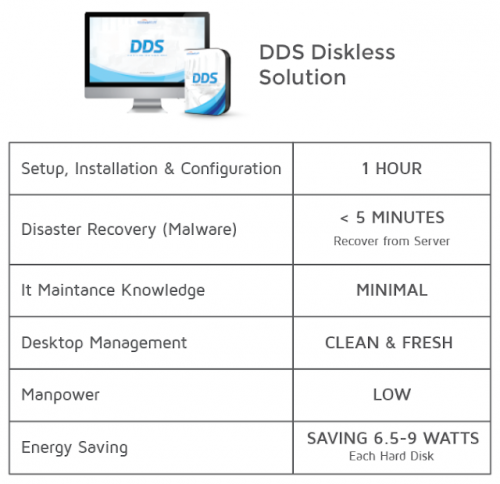 Benefits of DDS+:

1. Save more time

- It only needs one-time server setup, one-time configuration and driver setup, one time program updates or installation across hundreds of computers in just a few minutes!

2. Save cost

- With DDS+, you do not need to spend a single dollar on recovery software, anti-virus and Windows OS on a server because you don't need to install hard disk on the client PCs.

So, no need to worry about the maintenance fee as you only require a handful of staff to handle them.

3. Clean desktop environment

- Malicious software FREE, fresh desktop upon restart. This makes your entire network more secure and safer for your users.

4. Enhance security

- Unlike a normal desktop or notebook computer, no software or data are stored locally on the client. this makes them easy to replace if lost, stolen or damaged.

No software at the client means that there is no vulnerability to malware. More secure since all updates and data is handle at the server end.

5. Enhance network performance

- With DDS+, PCs return back to initial clean state after reboot, so fret not about the malware or registry errors that cause your workstations slow down.

In addition, DDS+ server is a Linux based, so it does not require anti-virus to be installed, smooth, reliable and faster than your existing system.

If your business is faced with issues such as:

•

Network security


•

Malware attacks


•

Hardware replacement costs


•

Maintenance, labor and time costs


•

Supporting application software on diverse hardware, or


•

Ensuring your data remains accessible and secure



DDS is the right thing you should consider!
Please visit the following link to know more benefits and features of DDS+.
Website :
https://michaelsoft.com.my/
YouTube Video :
Facebook Page :
https://www.facebook.com/michaelsoftDDS/
---
Price: Click here submit the form to request a quotation from us. We will get back to you as soon as possible.
Dealing method: bank-in/online bank transfer/ATM/Cheque
Contact method/details:
Phone: +603 – 7981 6878
Mobile: +6016 – 922 1248
Email:

[email protected]


Contact form: http://michaelsoft.com.my/contact/